5 Pointz – Brooklyn's Graffiti Heaven
Story by David Reynolds   •   Photography by Pete Marovich

(First Published in American-Journal - September 2007)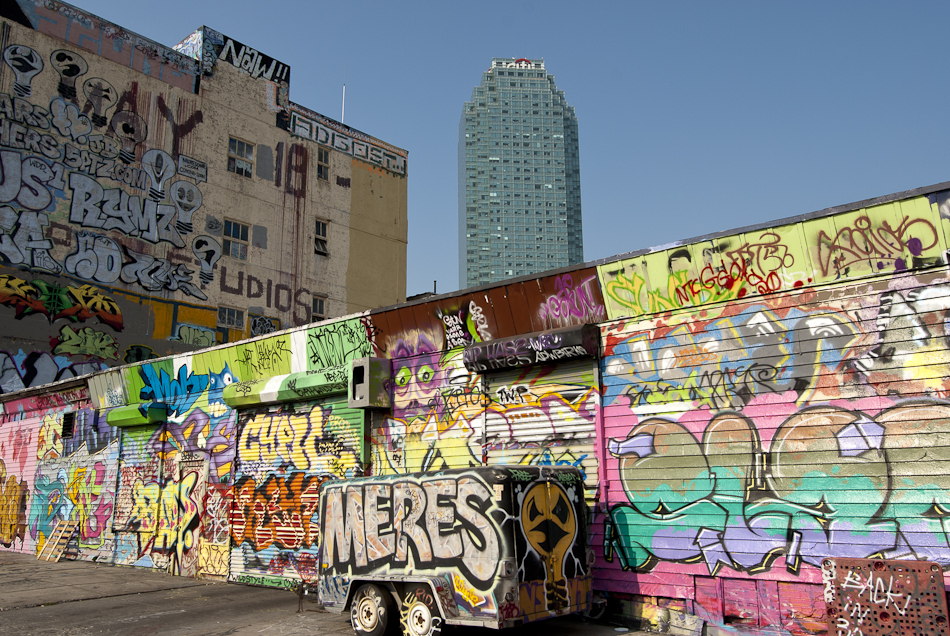 Once a rumbling collage of bubbly letters and fading paint, New York's City's subway cars are now uniform – each a clean, shiny metallic silver. It's a change that came in the late 1980s when city officials promised that no graffiti-covered car would leave the train yards.
With their moving galleries gone, New York City's "graffiti writers" sought out dark corners in the boroughs and claimed walls as their own with a few stylishly painted letters. They climbed to out-of-the way places, painted in the dark and always looked over their shoulders.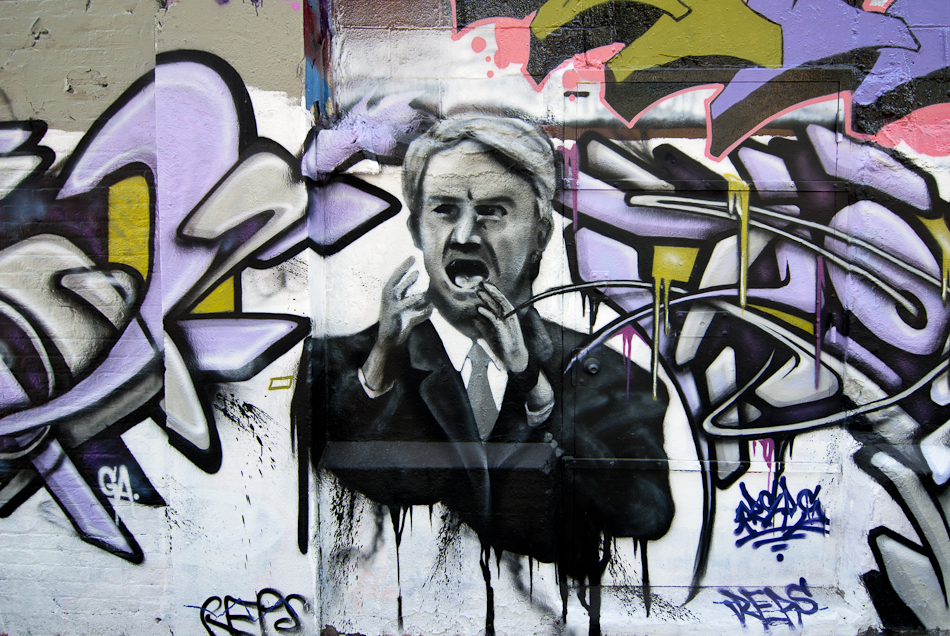 Now 20 years later, as the seven train rises from a Manhattan tunnel in Long Island City, giant letters and bold strokes of spray paint welcome passengers to Queens. Vibrant images cover a five-story building known as 5 Pointz. It's thousands of square feet of brick, block and steel, where graffiti is encouraged, not forbidden.
"If you told me 20 years ago there'd be a place like this, I never would've believed it," said Anthony Giglio, a 37-year-old New York City native who gave up graffiti years ago for steady work and a family. But for the past two years, he says, 5 Pointz has been a haven. He visits after work and on weekends to improve the craft he learned as a teenager in train yards.
"This place is a saving grace for a lot of people," Giglio says.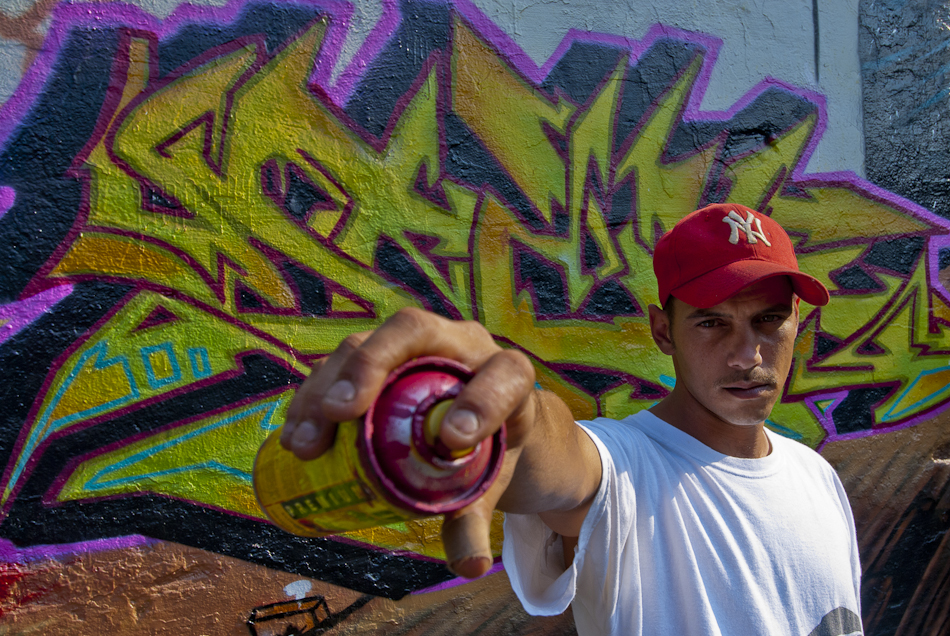 Artists & Admirers
5 Pointz, named for New York's five boroughs, is across from the contemporary art museum P.S.1. But visitors who stroll Jackson Avenue near Crane Street see a different collection of modern art. While some P.S.1 exhibits are designed to peak the mind, 5 Pointz attacks the eyes with images gritty and cartoonish.
The massive building that spans much of a city block is covered with movie and television characters, sneering faces, dragons and the bent contorted lettering that is graffiti's hallmark. Graffiti writers of all styles and skills are given a spot at 5 Pointz, provided they bring their own spray cans and accept that even the best images will eventually be painted over.
Giglio says writers come to 5 Pointz from around the world to paint in the city where graffiti began.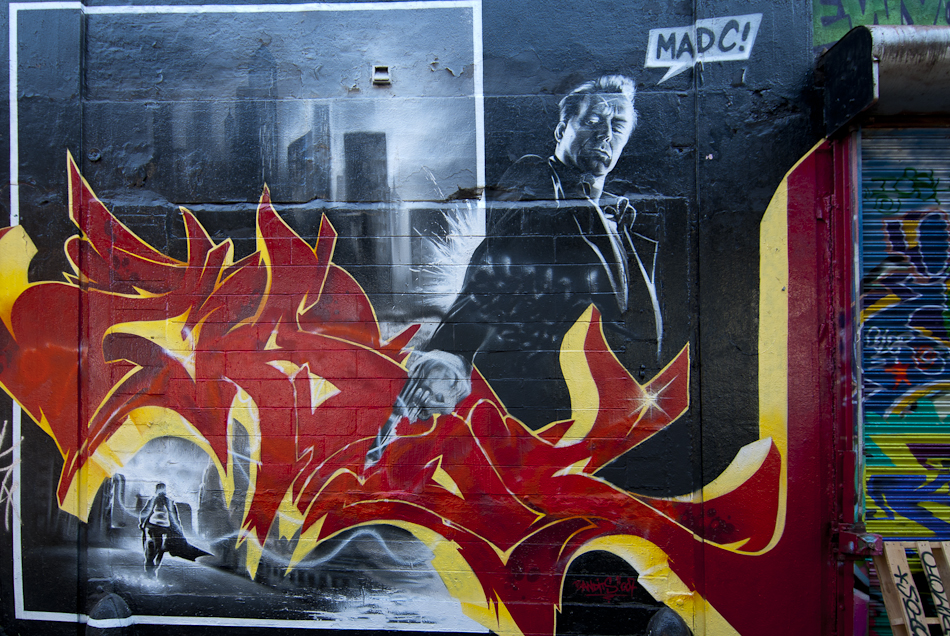 "To them, New York is like the Mecca of all graffiti, so it's very honorable to work here," he said. The elaborately painted bricks and cinder blocks also attract hundreds of curious visitors and dozens of teenagers eager to learn a largely forbidden craft many consider vandalism. To Giglio, 5 Pointz is proof of graffiti writers' rebellious spirit.
"The more you hold someone back and tell them no, the more they're going to want to do it," he says. City officials, he says, oppose 5 Pointz and feel that it encourages illegal graffiti, but many others have embraced it. Singer Joss Stone shot a music video at 5 Pointz, Giglio says, and models and photographers have used it as a backdrop for photo shoots.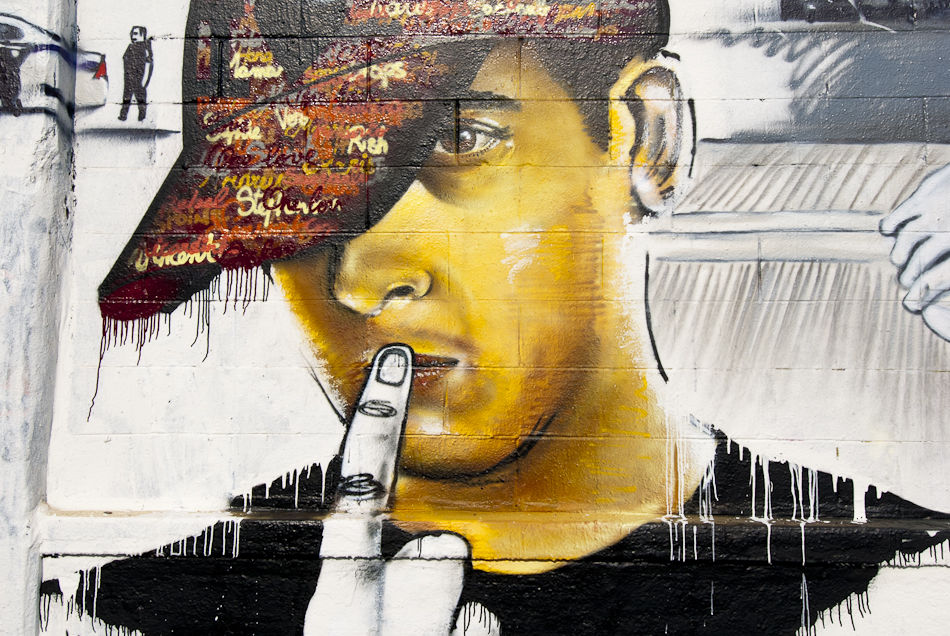 New Style Of Graffiti
Although 5 Pointz continues a tradition that began in New York train yards in the late 1960s, Giglio says painting in a legal spot is different from graffiti on the street. After the city ended subway graffiti, train writers resorted to "street-bombing" – painting anywhere and hiding from parents, police and angry landlords.
On the street, graffiti writers have little time for perfection and usually spray just a few chosen letters, enough to claim their spot. But at 5 Pointz, writers spend hours, even days painting. Some collaborate on murals, while others, like Giglio, continue writing the same favorite letters they chose as teenagers.
The result is a mix of dragons and monsters, celebrity caricatures and street hustlers. The most elaborate paintings add variety, but are different from the craft Giglio learned as a teenager.
"The original showcase of graffiti was the lettering, doing your name," he says. "You can't define a graffiti writer by legal spots. You might be an aerosol artist, but you're not a graffiti writer."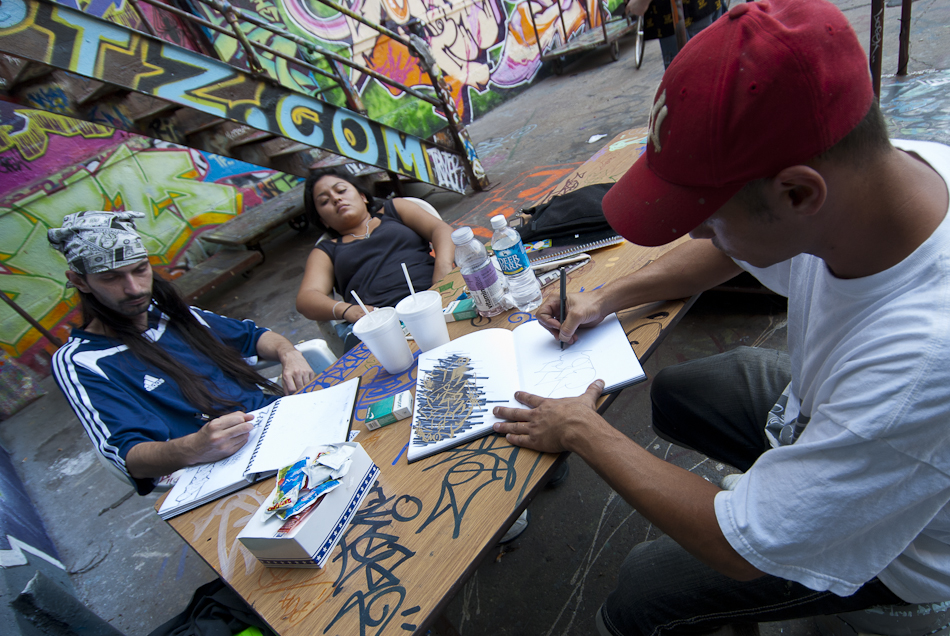 Back To The People
On a recent Saturday, Daniel Martinez, 35, crouched on Crane street, bending his signature letters on an often painted over wall at 5 Pointz. With the quiet hiss of a low-pressure spray can, Martinez, who started "writing" at 12, says he can slide into a zone and return to the craft of his youth. As a kid he was fascinated by subway grafitti, which reminded him of cartoons. Decades later, Martinez has parlayed his drawing skills into a career airbrushing cars and motorcycles.
Legal graffiti spots like 5 Pointz are hard to find, Martinez says. Most other legal spots are on tucked away rooftops where other grafitti writers would see his work, but not the regular people who stroll down Jackson Avenue or who pass 5 Pointz on the seven train.
For graffiti artist Lady Pink, painting for regular people was part of the allure of subway cars when she started writing in 1979 at age 15.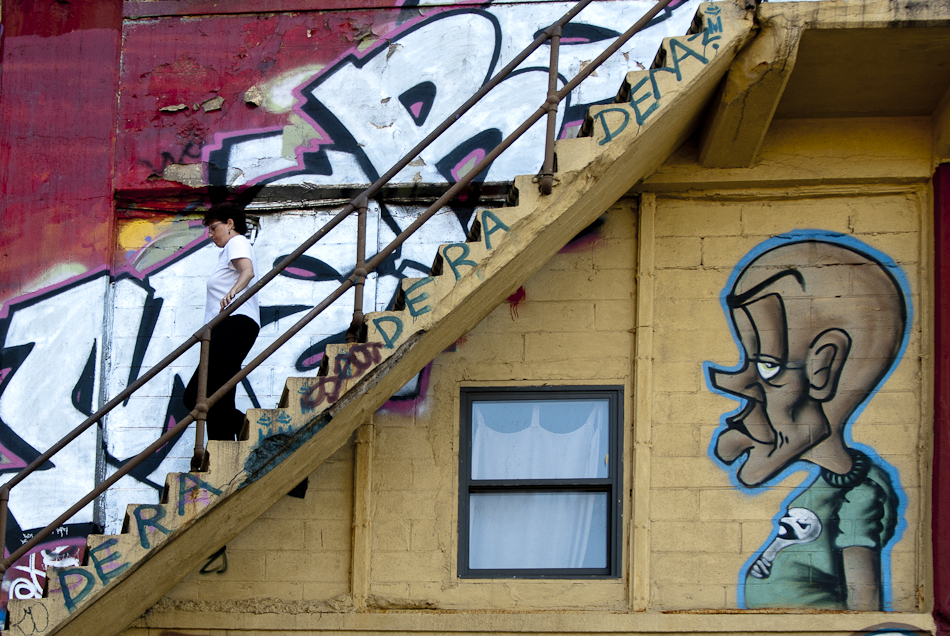 Lady Pink, whose real name is Sandra Smith, says train yards taught her a "no-nonsense," "in-your-face" folk art that screamed for the attention of commuters. She worked at night and learned to set aside her fear in favor of her art. She honed her artistic skills and people began commissioning her to paint murals that have been scrutinized by thousands. She's even shown her work in galleries alongside her hero, Georgia O'Keefe.
Now Lady Pink mentors young painters, some of whom practice at 5 Pointz, and passes along lessons from the train yards during after school workshops. She sees 5 Pointz as a way to keep graffiti going and to get art out of museums and back on the streets where everyone can admire it.
"I prove to the young people you can survive as an artist despite your unorthodox beginnings," she said.
RELATED LINKS
Please take a moment to leave a comment below