Drag Racing in the District
Photography and Text by Pete Marovich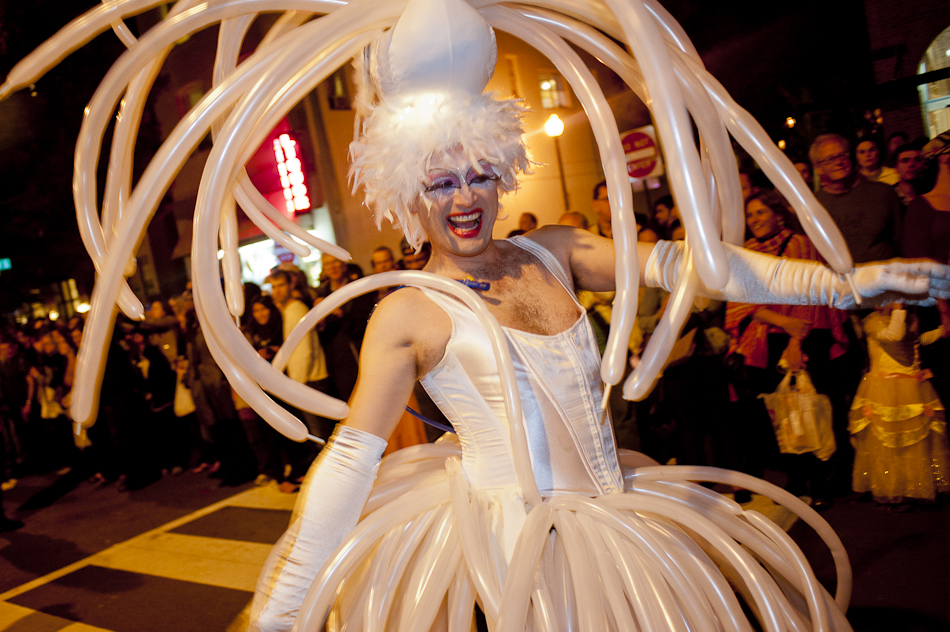 The runway stretches for 2 blocks and thousands of spectators line the street in anticipation for the show. Although the annual High Heel Drag Queen Race in Washington, D.C., is billed as a race, it is really more of a two-hour drag queen fashion show with a mad dash in heels at the end.
The city's unofficial kickoff to Halloween, the 17th St. NW extravaganza is always held the Tuesday before Halloween.
There appears to be only two rules: Runners must be male and their pumps must be at least 2 inches high. However, many don 5 and 6-inch heels that they can barely walk in, let alone run.
While many of the participants take the race seriously, most of the spectators come for the pre-race show.
For nearly two hours about a hundred drag queens dressed as everyone from Lady Gaga to the Mona Lisa (complete with picture frame) strut their stuff up and down the street to the joy and approval of the picture snapping fans.
It all began in 1986, when a small group of drag queens decided to run the two blocks from JR.'s Bar & Grill at 17th and Church streets to Annie's Paramount Steakhouse. When they arrived at the steakhouse, they drank a shot, and then raced back down the street.
Now the race is a pre-Halloween staple.
The event is so popular, in fact, that city council members and even the mayor are known to show up and mingle with the racers. It brings together the local LGBT community with anyone else who whats to join the festivities. The crowds are open and accepting of everyone.
How can anyone not have some respect for any man brave enough to put on 6-inch heels and sprint three blocks in front of thousands?
Please take a moment to leave a comment below