A Gathering Storm
Photography and Text by Pete Marovich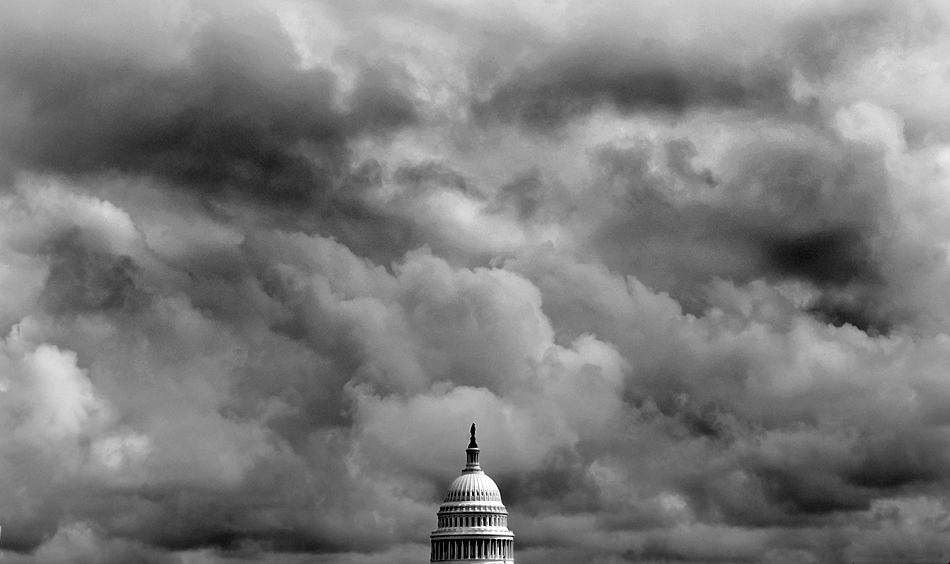 The nation's capital is almost always in the grip of some sort of political turmoil, which is not surprising given that the U.S. Constitution is designed to create conflict between the executive and legislative branches of government. But, at present, Congress appears to have an exceptionally full plate.
With only days left before its deadline, the bipartisan "supercommittee," created to construct a deficit-reduction deal, remains divided on the basic issues of taxes and entitlements.
Taxes are a regular issue of contention. Republicans almost always oppose raising taxes, while Democrats are known for supporting tax increases, at least on the most wealthy Americans. It seems simple, but just when it appears evident how all of the players stand on the matter, someone rewrites the script.
A growing number of Republicans recently disavowed a pledge they took against tax increases and have proposed a plan that includes raising $300 billion in new tax revenue by eliminating loopholes and deductions in the tax code. It seems like the kind of proposal that would finally bring the two political parties together.
However, Democrats point out that the Republicans' plan would result in a permanent six-point reduction in the income tax rate for the most wealthy Americans. This rate currently stands at 34 percent and is scheduled to return to 39.6 percent in 2013, when the tax cuts implemented by President George W. Bush expire.
While most Democrats see the Republicans' offer as a bookkeeping sleight of hand, Senator Dick Durbin, D-llinois, applauded their efforts to raise taxes.
If all of this isn't enough, the country is facing yet another government shutdown threat this week as Congress confronts the expiration of its latest short-term spending bill. Congress passed that bill in early October to give lawmakers more time to iron out their differences on the federal budget. The nation is more than 30 days into fiscal 2012 and no budget has been passed.
In the meantime, the nation is holding its collective breath, hoping the skies will clear.
Please take a moment to leave a comment below