Yes Virginia, Even Santa…
Photography by Genna Martin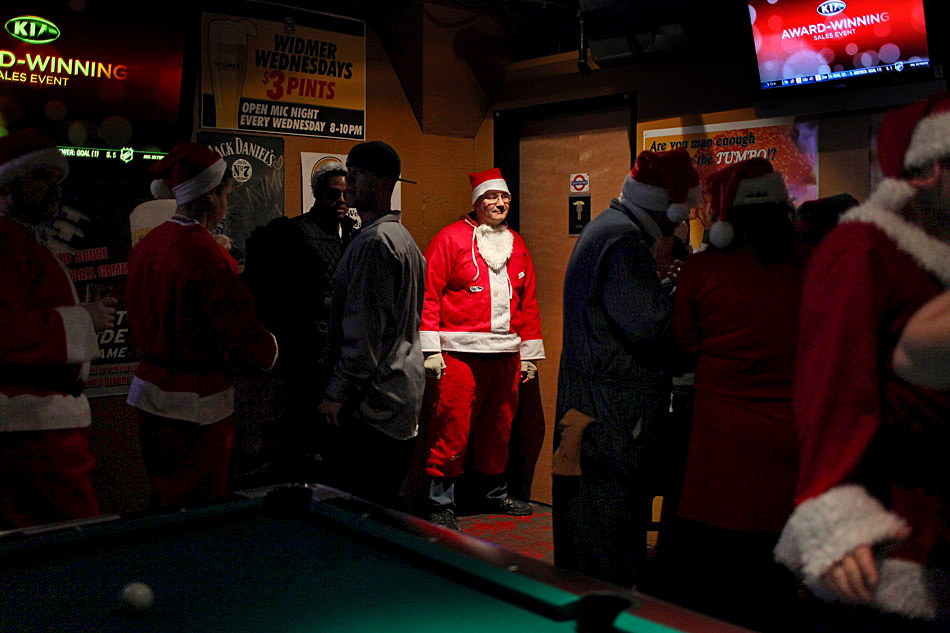 A Santa waits to use the men's restroom in the crowded Blitz bar in the Pearl District in downtown Portland, Ore. The Blitz was swarmed by a sea of Santas, elves and reindeer who came out by the hundreds for the 2011 SantaCon pub-crawl.
An event billed as for adults only, SantaCon is an annual gathering of people dressed as Father Christmas and other icons of the Christmas season. Their goal is to spread goodwill and have a good time as they sing naughty Christmas carols and hand out small gifts to strangers.
The event was founded by the San Francisco Suicide Club in 1994 and later adopted by the Cacophony Society. The Cacophonists, which bill themselves as "a randomly gathered network of individuals united in the pursuit of experiences beyond the pale of mainstream society through subversion, pranks, art, fringe explorations and meaningless madness," celebrate Christmas in a distinctly anti-commercial manner by combining street theatre and pranksterism.
SantaCon is now celebrated around the world.
Please take a moment to leave a comment below