Monkeys, Riding Dogs, Herding Sheep
Text and Photography by Pete Marovich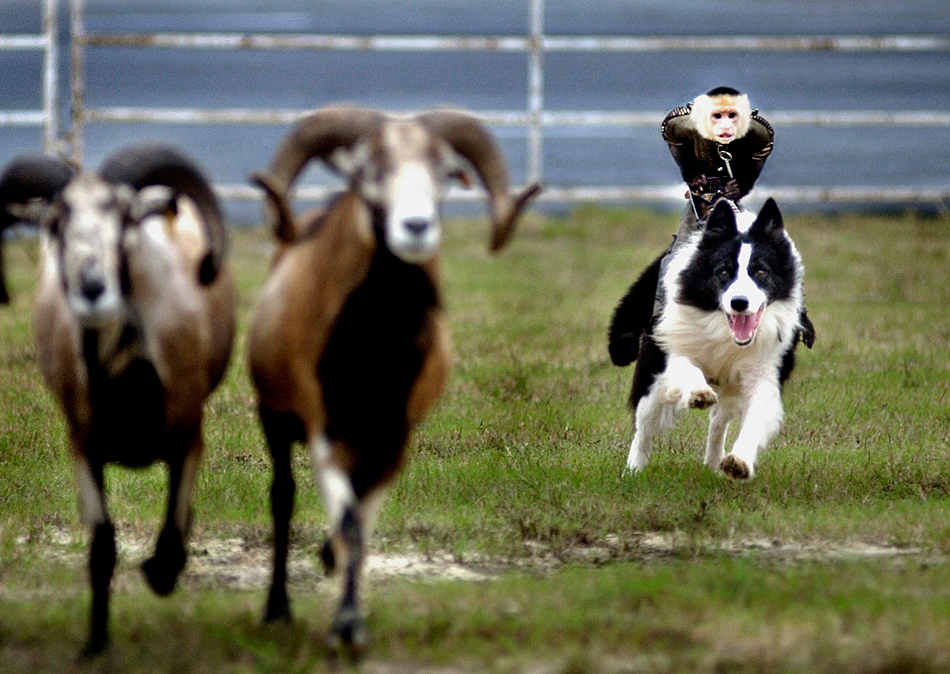 I will never forget that day in 2002 when sportswriter Matt Coffey came up to me and said these magical words: "monkeys, riding dogs, herding sheep."
I just stared at him.
A big smile across his face, Coffey slowly repeated what he had said. "Monkeys. Riding dogs. Herding sheep."
It had to be among the top 5 of things ever said to a photographer at a small-town newspaper. All I could say was, "I'm in!"
Off we went to the professional rodeo, which was being held nearby.
There, we found Tim "Wild Thang" Lepard, a former rodeo clown and bull rider, who in the late 1980s began putting capuchin monkeys on the backs of border collies and setting them loose to herd sheep. He called his animal act Team Ghost Rider and took it on the road, offering comic relief between dangerous rodeo events.
Recently, the popularity of Lepard's show has exploded. Instead of just performing at rodeos, his Ghost Riders have been seen performing for fans at minor league baseball and professional football games. They have even been featured on television sports shows.
But if you ask me, it's no surprise, really. Who doesn't want to see monkeys, riding dogs, herding sheep? I know I did.
Please take a moment to leave a comment below